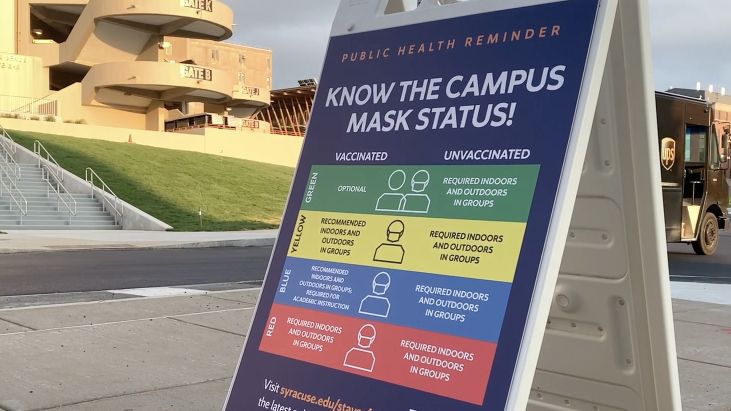 It seems like a simple task, but some are finding it difficult to follow — wearing a mask in the Dome at Syracuse University.
"I thought it was kind of loose, and you really only had to have a mask on as you entered," said SU student Matt Edwards. "Then once you were in there, it was just free rein."
Currently, all staff, students and visitors are required to wear masks, regardless of vaccination status. Fans are allowed to remove their masks while eating or drinking, but many kept their masks off while sitting in the stands.
"Behind me, a couple of older people got into an argument with students," SU student Reese Swiftenberg said. "The students were like, 'You're in the student section,' and it's like the students don't really care as much."
That's why Syracuse officials are ramping up staff and signage all around the stadium.
Syracuse University Vice President Pete Sala says there will be signs at every entrance, ushers will carry signs and fans will be reminded throughout the game over the stadium PA system.
"We've seen, any of us that watch the news or social media, we see what happens when people get into a 'please-wear-your-mask type of thing and there's a confrontation. I don't want to put my ushers and ticket takers, specifically ticket takers, and guest service staff in a situation where there is a very heated confrontation," said Sala.
Officials and students agree that the policy is hard to enforce, but guest services will try to help anyone who is uncomfortable being around unmasked people.