Mario and Luigi climb down a sewer drain to fix a devastating plumbing disaster in Brooklyn and end up Princess Peach's 'Mushroom Kingdom' and Bowser's 'Dark Land,' respectfully. I guess that's a good a way as any to start this movie's adventure, and a hardcore trip down '90s memory lane.
"The Super Mario Bros. Movie," directed by a trio of directors (Aaron Horvath, Michael Jelenic, and Pierre Leduc), is a kids' movie through-and-through; but it packs enough nostalgia and Easter Eggs for the '80s/'90s-raised parents who will doubtless bring them. Its voice talent is impeccably cast, and the animation is ambitious, while not jettisoning into show-off land. In a movie landscape where every movie has to "mean" something, here is a film that oozes enjoyment for kids and adults alike. And it feels, for the first time, like flipping on an old NES or SNES entertainment system.
Mario and Luigi Brought to Life
What works about "Super Mario Bros." for general audiences is that it's a likable film, with characters that are relatable. Mario (voiced by Chris Pratt) and Luigi (Charlie Day), have just quit their job for a hard-nosed boss (comic Sebastian Maniscalco) to start their own plumbing business. Their family consists of family members who all think they are failures or varieties of inept. The duo's father (voiced by Charles Martinet) is the most critical. The brothers' burgeoning business is struggling after a disaster of a first call (which is, frankly, quite hysterical). They attempt to make themselves into something by 'saving' Brooklyn when a disastrous flood ensues after a plumbing malfunction.
The call-backs to the original NES system are present from the opening frame. The directors do a good job at incorporating them into the film without it ever feeling overstuffed. My favorites are the 'Punch Out' pizzeria that inhabits this film's opening — complete with posters of "Mike Tyson's Punch Out" game adversaries — along with the clever use of the various lifts "Super Mario Bros." players had to use in the various games once in the Mushroom Kingdom. And the film renders the Mushroom Kingdom itself in a way we never got to see in the games (seeing as you're usually fighting Bowser's minions). We see sweeping landscapes of mushrooms (a food which Mario hates, humorously depicted). This is complete with the lovable Toad (voiced by Keegan-Michael Key), and the immovable Princess Peach (Anya Taylor-Joy).
All of this is set against an impending attack on Mushroom Kingdom by Bowser (Jack Black in rare form), along with his minions and Koopa army.
'Mario Kart' in Real Time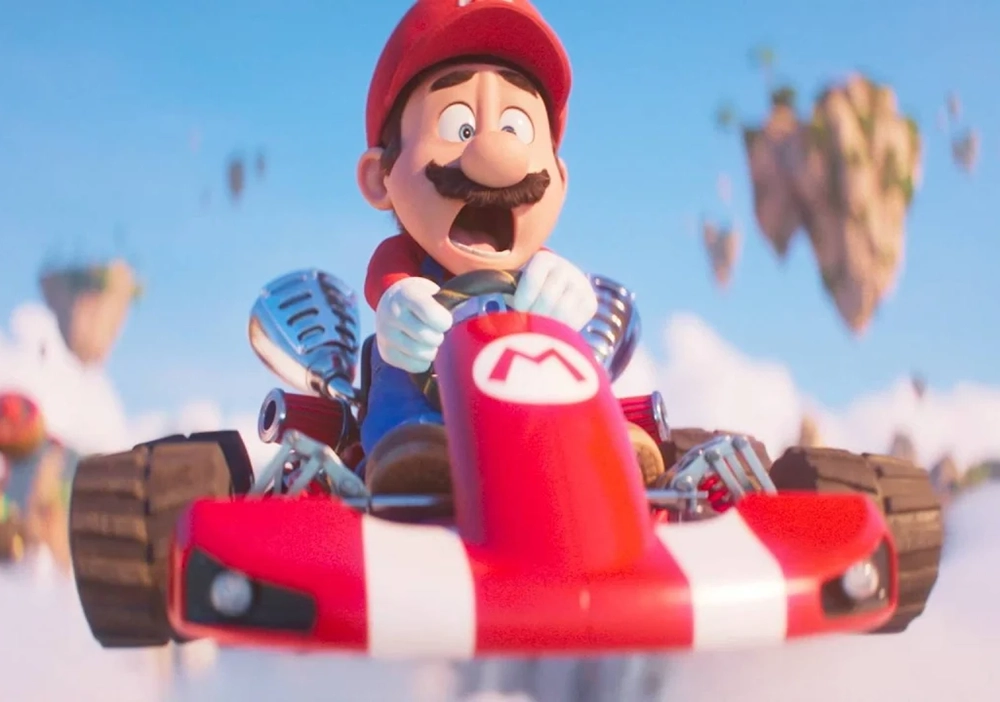 From a children's movie standpoint (this film's chief raison d'être), "Super Mario Bros." succeeds. The various landscapes Mario, Princess, and others travel through are fun to watch. They're all depicted in the way that Illumination Entertainment is known for. The city animation is reminiscent of films like "The Secret Life of Pets," but the nostalgia factors make the opening NYC scenes feel lived-in and retro, rather than hyper-modern and shiny. But where the movie excels is once it enters into its Mushroom Kingdom and Bowser's Dark Land. This is along with a hysterical journey to the Jungle Kingdom to recruit the 'Kong Army.' It's here we meet Cranky Kong (Fred Armisen) and Donkey Kong (Seth Rogen). An ensuing battle between Donkey and Mario is among the film's funniest. Additionally, some lessons learned along the way — surmounting challenges, seeking parental approval, and facing your demons — are heartwarming in equal measure.
For adults who grew up in the '90s — the film's nostalgia is off the charts. Seeing the various enemies I fought on NES as a kid brought onto the big screen was a thrill. The musical score and its redux of familiar "Super Mario Bros." level arrangements are a joy to listen to, and call back to our childhoods. And for lovers of the "Mario Kart" spinoffs, the homage to that game and its devastatingly hard 'Rainbow Bridge' is apropos — and dangerous — in equal measure.
Pratt and the Voice Actors Excel
My only real criticism of the movie is the treatment of Jack Black's Bowser, through no fault of Black's own. His opening introduction is menacing, as he defeats a Penguin Kingdom to acquire a trophy. However, in various parts he will try his hand at comedy — or worse, love — as he devises different ways to 'propose' to Princess Peach. And while one piano/vocal rendition as he improvises is funny (you can see Tenacious D leaking through), it sometimes hits as all over the place. But it was then that I had to remind myself, this is a kids' movie. Black excels at doing his best with the material, and, for his credit, he does appear quite evil at times.
All-in-all, this is an enjoyable film. It has enough flash and zeal — and heart (especially its ending) for kids… though all the marriage silliness is 'total cringe,' to use my step-daughter's words. But for children of the '90s, this is a Mario lovers' dream. It's a chance to see Mario and Luigi in action (more-so Mario, however), and ends in a fitting way. The voice actors knock it out of the park (especially Pratt), and it's a film all ages can enjoy.
A Contagious Nostalgia
To the legion of critics citing this movie's "paper-thin" story and "lack of cinematic enjoyment," I'm really speechless. I deign to think how some of my favorite childhood animated pictures would survive this crowd today. Not everything has to be dripping in artistry and social importance. Sometimes we go to the movies just to be entertained. "The Super Mario Bros. Movie" makes you smile throughout. And the bevy of young children I saw at the packed theater (our showing was sold out) dressed in Mario caps and mustaches showed that nostalgia can infect the next generation in all the best ways. At the movie's close, the theater erupted in applause. I can't imagine a better homage to these beloved, timeless Nintendo characters.