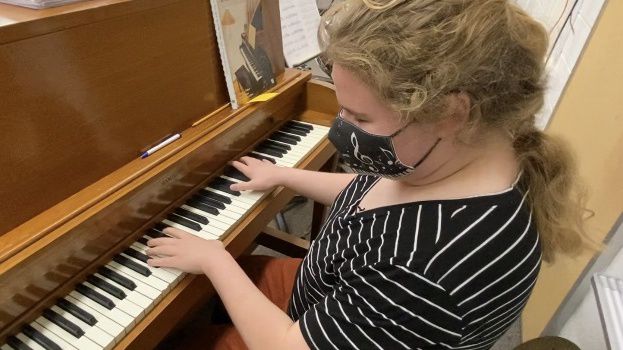 A Central New York girl with a passion for music won't allow her lack of vision impede her ability to compose and perform music. Rachel Harris, 16, of West Winfield is fully blind, gifted musician.
When you listen to Harris play the piano, you'd never know she can't see the keys. The 16-year old has been fully blind since birth but doesn't let that stop her from performing music, something she loves.
She can play up to 10 instruments.
"Piano, flute, ukulele, mandolin, accordion, guitar, recorder, synthesizer, theremin and ocarina," said the Mount Markham junior.
Rachel started playing her keyboard at 3-years-old and since then, her passion for music took off. Of course, it's not easy being unable to see but Rachel possesses a strong self confidence. She's an excellent student and took some time to show Spectrum News 1 a thing or two about writing and reading Braille.
"Dear viewers of this program, hi, I'm Rachel. I bet you are impressed with all that I can do. I can't wait to be well known around the globe," said Harris.
She has what is known as perfect pitch. It's the rare ability to identify or re-create a given musical note simply by hearing it.
"Whether it be an instrument, someone's voice, a vacuum cleaner, even. And, I can tell you what key it's in and I use that to know, what's the key to the song, OK, what's the time signature and I just listen to it, to learn how it goes," she said.
She has a goal of eventually becoming a composer. She's already written three songs of her own and you can watch her perform those pieces on her YouTube page.
Her band teachers couldn't be more proud of where Rachel has come.
"She's willing to try anything. And, you give her an assignment, and she will go home and start researching and working very hard," said Mount Markham High School Band Instructor Cathy Thielke.
"Just very open to trying it out. And, anything I ever asked her to do she just went after it. And, that's one of the reasons she's so successful," said Mount Markham Middle School Band Instructor William Pomares.
Rachel attended a Young Composers Conference over the summer and has started considering a number of colleges. She has put no limitations on her options after high school.
Rachel is very active in her school's choir and has participated in both All County Chorus and band at Mount Markham. She's also a member of Junior B Sharp, a program designed for talented music students in the Mohawk Valley.