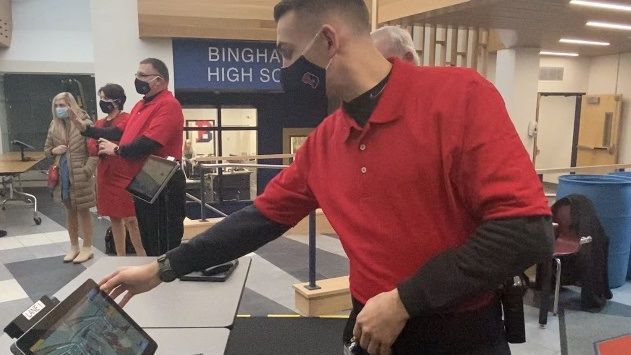 It's been an ongoing issue for schools across the nation. Challenging behaviors, and even violence, is on the rise as students look to cope with the challenges of the pandemic.
"Eighteen months without having consistency in our students' lives has really changed their behavior and expectations, particularly for our incoming freshman and our sophomores, who hadn't had that benefit of a complete transition into the high school," said Tonia Thompson, Binghamton City School District superintendent.
Violence found its way to Binghamton High School with a couple of major incidents just before the recent winter break.
What You Need To Know
Students must present identification and walk through scanners
Only one student is allowed outside the classroom at a time
Outside security will monitor halls and bathrooms
After a fire was started in one of the bathrooms, a fight broke out outside the school, leading to a community member jumping in with a lead pipe.
Thompson knew changes needed to be made, and fast.
"Long-term, we need to make sure that our students are feeling safe, not just in school, but outside in the community. What we're seeing is the issues that are happening within neighborhoods, increased by social media, our students' use of social media outside the school, and also increased by the isolation," said Thompson.
Starting Monday, students now must present identification when they enter, walk through a scanner and have their bags checked. Only one student is allowed outside the classroom at a time, and Southern Tier security are monitoring the halls to make sure no issues take place.
Associate Principal Miriam Purdy says in just a few short days, it's already been a success.
"I have not heard anything but people truly saying they feel safer in this building already. They're coming in and and they're seeing we also have additional personnel in the lobby, and it's just an immediate safer feeling, especially considering some of the challenges we went through before winter break," Purdy said.
While the district acknowledges the changes are just the beginning of addressing much larger issues, many say attitudes in the school have changed.
"Our building is coming back, and the positive feeling in the building that we haven't felt in a little while immediately came back Monday morning," said Purdy.
Along with the in-house changes, some students have been moved to alternative learning settings.
The district plans to hold a number of meetings with parents and students over the coming months to find out more ways to address their needs.