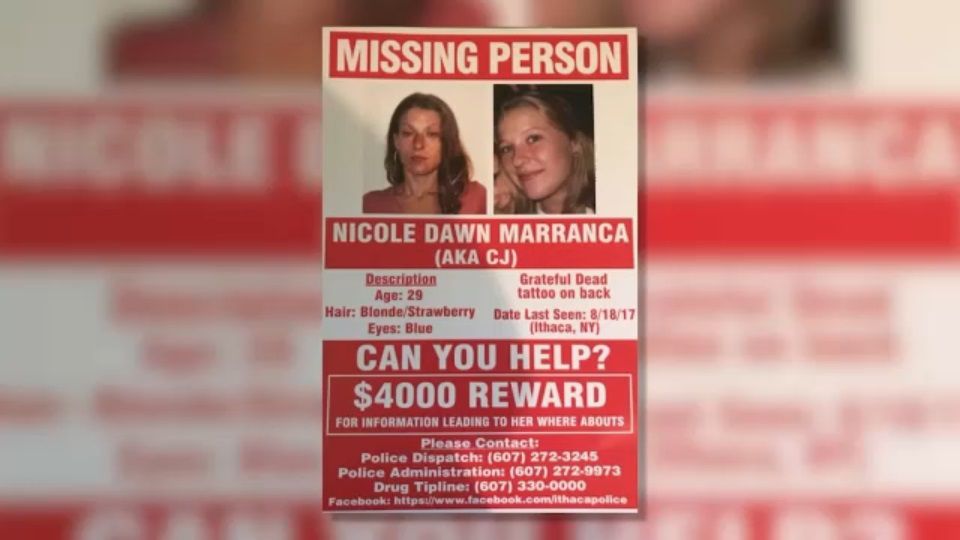 For a little more than four years, Nicole Marranca has been missing. Her family wants answers as to why the woman who was last seen in Ithaca disappeared.
It's something they were hoping to know more about before Nicole's 32nd birthday on December 11.
Nicole's stepmother, Kelley Marranca, who lives in the Buffalo area, believes her daughter has been stigmatized by police because of her life choices, drug addiction being one of them, saying that her family is not yet giving up their search.
The red "missing person" signs with Nicole's picture have been seen around Ithaca since her disappearance on August 18, 2017.
"Every time you hear about a body, you do … it does cross your mind," said Marranca. "If she would have known that we reported her missing, she would have found out and she would have called us."
Marranca and her husband, Nicole's biological father, have searched various places in Ithaca.
"But we really don't know where to search, because we don't know the exact location where she was last seen," she said.
Marranca set up a "Find Nicole Marranca" Facebook page, which she still checks. Tips have come in, but the real challenge, she said, is distinguishing the rumors and disinformation from actual tips.
"Being the fact that she was an addict, we thought maybe she just, you know, overdosed somewhere," said Marranca. "This person saying her body's here, this person saying her body's there, you know, and it's stressful."
As the years have gone by with no answers, Marranca alleges Ithaca police have not searched for Nicole enough.
"She had been arrested a few times for minor things, and that she was an addict, and she was homeless, that they just felt, you know, 'well, there's more important things for us to be doing because she was just another addict,'" she said.
The Ithaca Police Department did not return a request for comment on this story. 
When reached for comment, Tom Condzella, president of the Ithaca Police Benevolent Association, said he could not comment specifically on Marranca's case.
"[Ithaca Police] have other things that are pressing for them. And I know that they can't jump on everything right away, but it's frustrating being two and a half hours away," said Marranca.
Marranca and others on social media have vowed to keep searching. Above all, she and her husband really want closure.
"Just to know, you know, what happened? Just so we can bring her home," she said.
Nicole's family is asking anyone with information to come forward, with tips welcome on her Facebook page and the Ithaca Police Department's anonymous tipline.