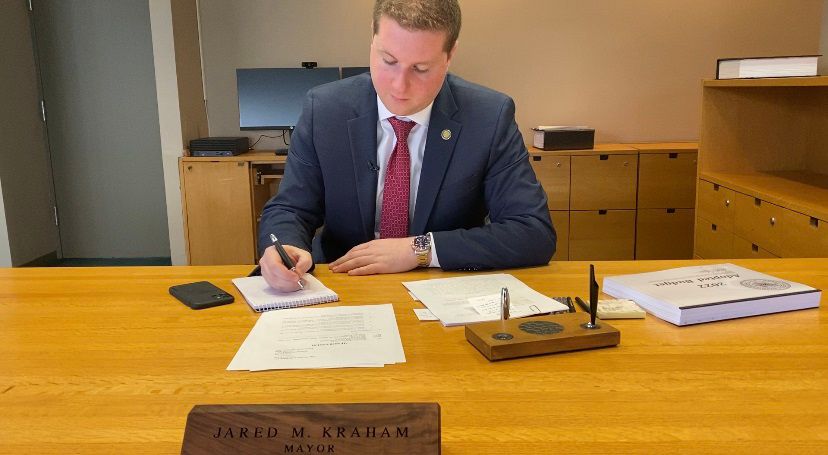 It's his first day on the job, but Binghamton's newest mayor already feels right at home. Jared Kraham didn't have to travel far for his new office, in fact, he came from just down the hall. 
"Certainly today is a fresh start, it's a new beginning, it's a new chapter, but it's in many ways still a continuation of my life in public service," said Kraham (R).
Continuing a family tradition, Binghamton's youngest mayor is eager to make history, just like his father once did. The late Jeffrey Kraham was once the youngest legislative chairman in the state's history, later becoming Broome County Executive. 
At the young age of 30, the Syracuse University graduate  will be tasked with leading one of the largest cities in the Southern Tier for at least the next four years. 
"Binghamton is a downtown destination for the Southern Tier and it only is that way because of the investments and the transformative projects, we we've got to keep those projects going , we've got to invest in infrastructure and we know people will want to come to downtown as a destination," said Kraham.
And we won't have to wait long to see some of those infrastructure changes. The Water Street Parking Garage is coming down, making way for something brand new. 
"This is a parking garage that was 50 years old. Everyone knew it's condition. It was falling apart. We are demolishing this project for a brand new 549 sq. space parking garage, as well as market race apartments to serve Boscovs, to serve the downtown community as well as anyone who's visiting downtown," said Kraham.
Former Mayor Rich David now shifts his focus to a senate run. That election takes place in November.