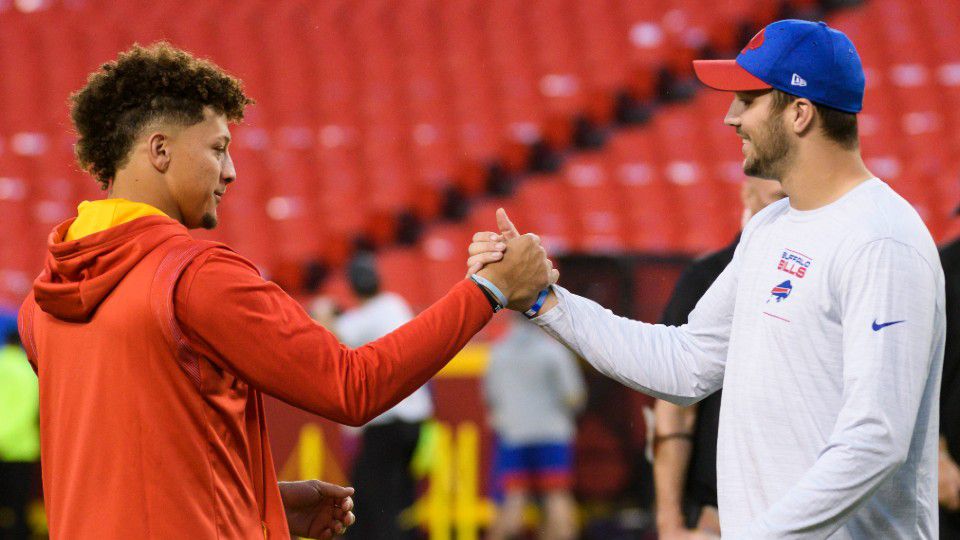 The Bills and Chiefs just may be the NFL's newest top tier rivalry.
Sunday night will mark the 4th time these two teams have played over the last two seasons.
The road team has won each of the two regular season meetings, with Kansas City taking victory in Orchard Park last year and the Bills grabbing the 38-20 'W' in week 5 this season.
Of course, the biggest stage they've met was last year's AFC Championship game, one KC completely controlled en route to their second-straight Super Bowl appearance.
That 38-24 loss still sticks with the Bills nearly 12 months later.
I asked a few #Bills players about how much the loss to the #Chiefs in last year's AFC Championship game still sticks with them.

Devin Singletary w/ best answer.

"Things like that you don't forget. How we lost. When we lost. Of course we still have that bad taste in our mouth." pic.twitter.com/ft5RYOoLcP

— Jon Scott (@JonScottTV) January 19, 2022
​
After knocking off New England in the wild card round, it seems almost fitting next on the Bills playoff path would be another shot at the Chiefs.
I think there's things that may be able to carry over from some of the previous matchups.
Others, not so much.
Let's sift through it all to set the table for this AFC Divisional round game.
​Allen vs. Mahomes
The quarterbacks of these two teams is what makes this a budding rivalry.
Patrick Mahomes has held claim as one of the best QBs in the NFL nearly from the very beginning of his time as KC's starter.
Josh Allen's path not as vertical, but he's certainly in the same realm as Mahomes now.
This could be the league's next Brady vs. Manning arms race.
So far, Mahomes and the Chiefs have a 2-1 edge over Allen and the Bills.
Allen's thrown for 724 yards (241.3 YPG) and seven touchdowns to 2 interceptions in those three games, completing 56.4% of his passes.
Mahomes has fared better, with 822 passing yards on 70.3% completion, also tossing 7 TDs to 2 INTs.
Allen's best game in this series came earlier this season (15/26 for 315 yards + 3 TD passes) in a Bills win.
Mahomes had his worst of the 3 that night.
So while we know there's much more that goes into the outcome of a game than how one player fares, I don't think it's a stretch at all to feel like the better QB Sunday night will be the one advancing.
New-Found Ground Game
The Bills run game has not been a factor in the previous three games against the Chiefs.
Overall, they've rushed for 334 yards on 69 attempts. While that is a solid 4.8 yards per attempt, let's dig a little deeper.
Allen has been the only effective runner, accounting for 189 of those 334 yards, averaging 7.3 YPC.
Devin Singletary has 74 yards on 24 carries, an average of 3.1 YPC. 
But Singletary's late-season surge just might be the most important thing for the Bills offense in this game against KC.
Over the last 5 games, Singletary averaging 80.8 yards per game on just over 18 attempts. 
That paired with a re-established commitment to having Allen run more has helped the Bills boast an average of 163.8 yards per game over their last six.
The Chiefs run defense ranked 31st in the NFL by allowing 4.77 yards per carry. Five times an opponent rushed for over 150 yards as a team. Ten times an opponent at least eclipsed 100 yards on the ground.
While it used to be thought that opponents should use the run game against the Chiefs as a way of keeping their offense off the field, I think the Bills simply need to establish it as something KC must account for defensively. 
Allen on the move really puts defenders in conflict, as he can rip off chunks with his legs or still throw darts all over the field on the run.
Singletary's effectiveness could force the Chiefs to stay more committed with bodies closer to the line of scrimmage, opening up things for the receiving weapons.
As I've said time and time again, the Bills don't need to run more, but just make the most when they do choose to.
I think this is quite an important development that KC hasn't had to deal with yet when facing the Bills.
KC's Improved D
On the flip side, the defense the Bills saw week 5 is not who Kansas City is now.
Through the first five games of the season, the Chiefs were allowing an average of 437.4 yards of total offense a game.
Since losing to the Bills, KC has completely turned things around and averaged just 334 yards of total offense a game over their next 13, a drop of over 100 yards a game!
A few changes personnel wise really headlining the turnaround.
First, Chris Jones is back and playing his more natural spot on the inside of the Chiefs defensive line. He was working both inside and out earlier in the season, with mixed results before getting hurt and missing the Bills game.
Jones had seven sacks after returning from injury and on the season has 34 QB pressures.
The stats don't fully tell the story of how disruptive he was in last year's AFC Championship, with 2 pressures and a QB hit.
Part of the reason Jones was able to go back inside was the signing of Melvin Ingram, who the Bills saw week 1 as a member of the Steelers.
His numbers don't pop (15 tackles, a sack, 2 TFL, and 5 QB hits), but he is someone they'll bring on the blitz a lot and must be accounted for.
A subtraction of sorts has also been an addition for the Chiefs defense. Daniel Sorenson lost his starting safety job after the Bills game and recently is only seeing now around 60% of the snaps. Against Buffalo week 5, he's credited with allowed 2 catches for 114 yards and a TD on 3 targets (according to Pro Football Reference).
Still, KC did allow 400+ yards three times during that 13 game turnaround. Denver put up 404, the Chargers 428, and Cincinnati 475. 
Justin Herbert and Joe Burrow are 2 QBs that can compare to the talent of Allen, so even though improved, this Chiefs unit still can give up yards and points in a big way.
Tre is Away
The biggest difference for the Bills defense this time around absence of Tre'Davious White, who is out for the season with a torn ACL.
However, White hasn't been as lockdown against KC as you might have thought.
While he wasn't targeted at all in last year's regular season meeting, he alowed 5 catches on 6 targets for 51 yards in last year's AFC Championship game. In the week 5 meeting this season, White was targeted 11 times, second only to Taron Johnson's 14. He was good in coverage, allowing only 5 receptions for 36 yards.
These numbers aren't to say the loss of White isn't big or that he isn't an elite cornerback. There is no doubt the Bills defense isn't as good without their top tier CB.
However, I think most can be honest with themselves in admitting the pass defense has played much better without White than expected.
As a whole, the Bills have allowed an average of 146.1 passing yards over the 6 games since White was hurt.
Of course there's the 3 pass attempt wind game by the Patriots and 9 sacks accounting for 82 yards lost against the Jets that skew things, but still outside of Tom Brady and the Bucs for a half, opponents air attacks have been grounded.
Levi Wallace and Dane Jackson have not been a liability.
Jordan Poyer and Micah Hyde might have even taken their All-Pro games up a notch since White went down.
Johnson is the one who will be really in the hot seat Sunday night, with Tyreek Hill spending a lot of time in the slot. While results have varied in the past against Hill and the Chiefs, Johnson is having a career-year, allowing just 55.1% of the targets he sees turn into receptions.
That's an x-factor match-up more than who Wallace or Jackson are lined up against.
On the Line
BUF (+2)
O/U: 54.5
**DraftKings Sportsbook**
Injury Report
BUF
No one listed
KC
Questionable: RB Darrell Williams (toe), CB Rashad Fenton (back)
Prediction
Bills win 31-24
It's not the full shootout some may expect, but things are tight for most of the evening. Josh Allen once again is the shining star that carries the offense, accounting for all four Bills TDs, using his arm and legs throughout. The difference in the game is the turnover battle, where Patrick Mahomes throws two INTs. Bills advance to the AFC Championship game for a 2nd-straight season by beating the team they lost to there a year ago.
**Make sure to tune into Spectrum News 1 once the game is over for "Buffalo End Zone." Our LIVE postgame show brings you highlights, team reaction, and analysis. Join host Kevin Carroll in studio as well as our Bills beat reporter Jon Scott along with WGR 550 and Bills radio sideline reporter Sal Capaccio from Arrowhead Stadium in Kansas City. That's "Buffalo End Zone" soon after the final whistle blows.**